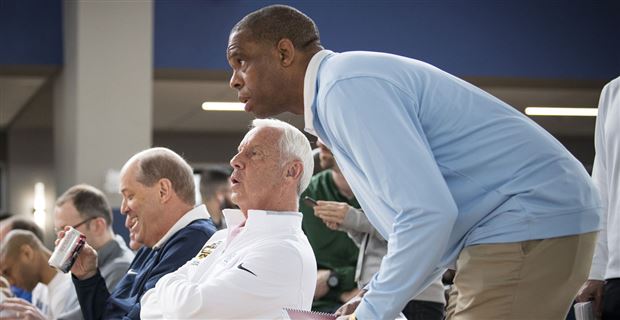 Don't stop reading, this is not a UNC post. Well there is an analogy, but that's it I promise. I have been speaking to several colleagues and hearing at different conferences that there is a big gap in finding staff to work youth programs right now. Some of the reasons have been low pay, not enough qualified applicants, and the lack of hours the job has. In 1999, I was cutting grass and washing cars for my orthodontist. Not exactly the dream job, but it paid well. I was living the high school dream, and not looking at job boards/postings. I just cared about eating, waking up on time for school, and watching/playing sports. It was all about me at the moment. I would not have worked for the YMCA and youth programs if it wasn't for my friend Aaron Rivers telling me about the job (Thanks Aaron!). The town I grew up in wasn't very big, and I had no idea that this was even an option because I was in my lane just doing what I knew and wanted to do. I am sure my employer was probably thinking and assuming that I know the YMCA is an option to work but I didn't. I even passed one of the youth programs coming home from school everyday. The same is true in 2019. Not all, but most high school and college students are just trying to make ends meet. They are having fun being young, and staying to what they know. There is a way to help fill this gap. Start recruiting and get inside the schools. Do you think Roy Williams and his coaching staff just wait around the Dean Dome hoping for the best players to walk onto the court and play for them? The answer is "No". They have to go out and recruit. They have to sell their program, educate these players, and try to make sure they understand what opportunities they have. It is the same in the working world. The best applicants are not going to come walking into your office and say "Please hire me, here are my references!" That would be cool, and sometimes if you develop a strong culture you will get a few, but it will not solve all of your hiring needs. Here are some of my favorite things our team has done recently…
Career Coordinator: Most schools have these as a resource, if they don't utilize the guidance counselor and other key school staff. These resources are in place to help the students, and can be your best friend if used correctly. They can also help promote your program as well.
Lunch Time!: Some schools have all the grades 9-12 eat in the cafeteria in shifts. Setup a table outside the cafeteria, pass out flyers while they are eating, let them know about your program. If the school lets Juniors and Seniors leave campus, setup a table in the parking lot catch them coming and going. Since time is limited, catch them flying back into school, have your handout ready.
Clubs/After School: Speak at student clubs, especially student council. They can help spread the word to their peers. Be present after school as students walk to buses and the parking lot.
Young Life Doughnuts: I saw Young Life do this and thought it was genius. They advertise to the students in the morning by passing out doughnuts and letting students know when they club meets off campus.
Friend Referral: Remember how I started? Without my friend, I may have never worked in youth programs. Use your current staff, members, friends, to relay how awesome the job is. Remember if its the YMCA, tell them they get a free gym membership with their job. Pay with the gym membership is a great combo.
Sports, Community Events: Be present when you can. Be ready to educate people about the job, and the benefits it comes with. It will develop trust, and eventually break the ice with people that may be on the fence.
Resume and Experience Builder: Working as a counselor or in youth programs is not a joke job. It is rewarding experience that builds your personality. Teamwork, trust, safety, self confidence, and enthusiasm drives this work. Employers would kill for these things as they are hiring. Educate your applicants!
Plan Ahead: If you know you have a big season coming like Summer Camp. Start recruiting in January, interview in March, and train in May/June. If you see someone in the next few weeks, tell them that the job is posted in January, you don't have to wait.
Community Colleges, Colleges: Many of the things I have listed 1-8 apply here too. Just because these applicants are older doesn't mean they know what you have to offer them. Get away from your desk.
To sum it up, you have to go after the applicants, they will not come to you. You don't have to throw your hands up, there are ways to help you in hiring staff to work youth programs if you are willing to try. I copied Young Life with their idea of being present with snacks, don't be afraid to see what others are doing. You have to adapt and be willing to try different things. I have added "Start Recruiting, Get Inside Schools" to the Resource Zone, and put under the Youth Programming section. Continue to use my website to steal and share ideas to make your program FIRE!